Any vote is a choice between two or more futures. The referendum on Scottish independence is a choice between two (or more) futures.
Two, because the choice on the paper is a simple Yes or No. More, because each choice is supported by multiple parties who have different views of what should occur after a Yes or a No.
But today we focus on making our choice of one of two futures; by saying Yes or No to whether Scotland should be an independent country.
You wouldn't know it from the campaigns though. Despite two and a half years in which to prepare and make a case, only one campaign has had anything much to say about building a future that's better for Scotland; for the people who vote today. Only one campaign actually deserves to win.
It may not turn out that way, of course. The flawed AV referendum was lost to a campaign that didn't deserve to win. (Unfortunately Alternative Voting, the version of proportional representation on offer, probably didn't deserve to win either – it was a tough decision for me to vote for the proposal on that occasion.)
I don't have children, but I want to leave the planet a little better than I found it when I go, and giving Scotland a better go at running itself is probably the biggest, most positive project I can contribute to in my lifetime, even if that contribution boils down to a single X on a bit of paper. And this may be my only chance to do that.
It's taken an extraordinary set of circumstances to bring us to this point. There's majority support for independence in a parliament that was designed to prevent it. Those circumstances that may not be repeated in the next twenty years, or ever; and in twenty years I'll be approaching 70 and perhaps the end of my life (though I hope for a bit more!).
Yes campaigners don't share a single vision for the future of Scotland, but at least they all have one, and almost all of them envisage a more egalitarian Scotland that deals more kindly with the less fortunate and makes sure that the citizens of the future can benefit from a high quality education with less debt. We can probably get some sort of blend of those proposals through coalition our proportionally elected parliament.
The No campaign have little in common but their opposition to change. The three main parties couldn't come together to make an alternate positive proposal for Scotland's future. If they had, they could have put it on the ballot paper and almost certainly won – the SNP left the door open on that for a long time, while making it clear it wasn't their responsibility to come up with a proposal they didn't support*. The Scottish electorate has waited even longer for them to come up with something worthwhile, but it's become clear they have nothing, and large swings to Yes show patience is running out. In the case of a No, what we get depends on who gets in at Westminster, and it's likely to be just one party's version that gets enacted. Not to mention they're all pretty rubbish. Take a look at this graphic to see how significant the proposed changes are: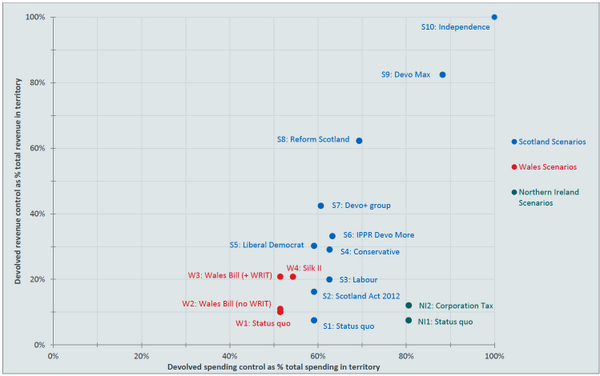 Click through for the source and more information. The Westminster parties are offering S1 through to S5. Polling suggests most of the Scottish population wanted S9; independence is S10. Which of those looks closest to S9?
"No" may win, but frankly I think that would be a bit of a disaster for democracy and Scotland, and deeper entrench the cynicism and disgust many people already feel for politics and politicians. I won't be helping them, as I'm voting "Yes". If you're reading this and have a vote, I hope you'll consider it too.
My friend who prefers not to be linked closed his "Yes" post with this video. I recommend it too:
* This may not be how you've seen it reported, with delusional commenters suggesting that the party of independence somehow didn't want what it's always campaigned for, and that Cameron had manoeuvred Salmond into a corner. Really? It was a win-win for the SNP – if the Unionist parties came up with a credible third option for the ballot paper, it would have romped home with a safe, large majority that independence-minded voters could have accepted as a significant step in the right direction. As it was, they made it clear there was nothing much on offer and forced waverers to consider whether independence was really the only game in town. The Unionist behaviour was, sadly, predictable. It's a gamble for the SNP, and not guaranteed to win, but it was always likely to push more people into supporting independence.